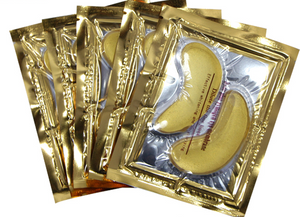 Packaging:

 
10 pairs/pack.
Ingredients: Aqua | Glycerin | Collagen | Aloe | Grape Seed Oil | Licorice Root Extract | Rose Flower Oil | Retinol | Gold | Rosemary Extract | Caprylhydroxamic Acid

Features:
- Contains collagenase ingredient can moisturize, water and brighten the under eye area.

Details for use 
1. Clean and dry the eyes.
2. Open the bag and apply on top under eye area.
3. Once the bag has been opened, please use immediately. 
4. If skin irritation or redness, flush the area with water and stop use.