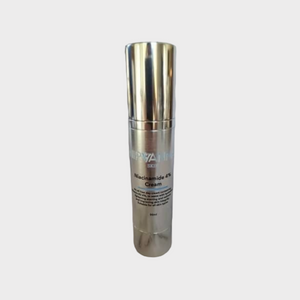 Rejuvenation in a jar.
An oil free cream Containing Niacinamide (vitamin B3), this cream will assist in moisturising skin, fading old acne scars (acne scar removal), reduces hyperpigmentation, treats Rosacea, Eczema, Psoriasis, reduces fine lines and wrinkles, lightens, whitens, and brightens skin, eliminates blemishes and dark spots, fades freckles, sun spots, and Melasma.
Suitable for all skin types.
VEGAN

Ingredients:
Water, Niacinamide, Sodium Hydroxide, Polysorbate 60, Methychloroisothiazolinone, Methylisothiazolinone, Cetearyl Alcohol, Aloe Barbadensis Leaf Juice, Cyclopentasiloxane,Disodium EDTA, Tocopheryl , Acetate, Sorbitol