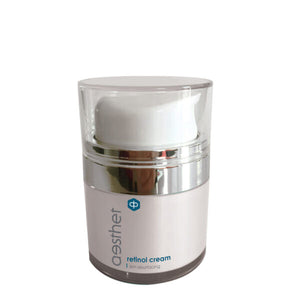 Aesthet Retinol Cream
Retinol is a pure vitamin A and it is commonly used to treat various skin conditions such as acne prone skin, discolouration and wrinkles.
• Helps to prevent and reduce fine lines and wrinkles
• Regulates oily skin and minimizes breakouts
• Fades aged dark spots, hyperpigmentation and evens out complexion
• Brightens and smoothens the skin
Aesthet Retinol cream is an antiaging cream containing active Retinol which has been stabilised with anti-oxidants to stimulate skin renewal, reduce uneven skin tone and the appearance of fine lines. Aesthet Retinol cream contains TighRenyl™, bio-technological complex that helps to rejuvenate the skin matrix and effectively smooth the skin surface. Omega 6.3 Ceramides of raspberry seed oil and natural polysaccharides aid to restore skin moisture and the skin barrier cohesion. Heptapeptide-34 and Gorgonian extract serve to reduce the risk of flaking and irritation often associated with Retinol.